Visit Us in Sydney's Historic Strand Arcade...
Open 7 Days:
Monday - Saturday 9:30am - 5pm
Sunday: 10:30am - 4:30pm
Stop by the Strand Arcade and visit our dazzling Aladdin's cave of tantalising treasures and unique historic pieces. Listed in the Louis Vuitton catalogue, Trésors boasts an expansive collection of Antique, Vintage, and bespoke jewellery, perfect for any occasion.
At Trésors, we believe that beauty is timeless, as is our coloured gemstone collection, which is why we also offer a range of services, from jewellery repairs and resizing, to upcycling and designing. In saving these pieces, we work towards a more sustainable world…
Trésors is forever, with generations returning again and again. So, bring in your old, we'll make it new. If it's antique, we'll conserve it too!
Follow us on Facebook and Instagram or join our mailing list for regular updates about our store!
For appointments and enquiries, please email us: tresors.strand@gmail.com 
Directions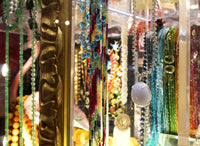 The Trésors Story
Quite simply, our company name Trésors translates to Treasures in French. We are an independent, Australian owned business based in Sydney, New South Wales. Determined to cater for those among us who would like to own 'tasteful things.' It is our want to guarantee such a variety of choices at Trésors, from the expert to the dabbling dilettante, everyone will find something to treasure.
Our modest shop specialises in pieces of the notable periods:
Antiques: -Georgian/Regency Era -Victorian Era -Edwardian Era -Art Nouveau -Belle Epoque -Années Folles -Art Deco -Egyptian Revival -Arts & Crafts -Australiana
Vintage: -Retro -Modernist -Brutalist
Contemporary: -80's -90's -2000's
Surprising customers with a range of investment quality items, appealing to a wide variety of tastes.
Visit Our Treasure Trove
Our bijoux gallery is easy to find, located in the Sydney's CBD on the Ground Floor of the historic Strand Arcade, Shop 30A, 412 George St. Our location is easily accessible from either Town Hall or Martin Place Train Station or step off the Light Rail in George Street.
Wide Range at Trésors
At Trésors, we exhibit all sorts of collectable materials, much of which has been and will continue to be internationally sourced. With an amazing variety of beautiful, rare and interesting 'object de art' including original nostalgic Australiana, a personal passion.
Our Range Includes:
Jewellery: -Accessories -Bracelets -Brooches -Earrings -Necklaces -Pendants -Rings -Watches -Antique & Vintage Second-hand Jewellery -Mourning Jewellery -Natural & Rare Gemstones -Old Cut Diamonds -Costume Jewellery
Ceramics: -Earthenware -Chinaware -Porcelain -Slipware -Stoneware
Collectables: -Antique Toys -Artworks -Bric-a-Brac & Curios -Clocks & Timekeepers -Crystalware -Cutlery -Decorative Pieces -First Edition Books -Glassware -Memorabilia -Mirrors -Musical Instruments -Paintings -Scientific Instruments -Sculptures & Statues -Textiles -Vintage Accessories
Shop the Range
Where we find our Treasures...
The Trésors Team travel on a regular basis, maintaining well-established connections internationally. But our primary focus is local, through Australian owned businesses, estates, imports and resources. Continuing to locate small, unusual and exotic antique collectable pieces that inspire and indulge your imagination. Consider us at your disposal, we will find it for you!
We are concerned with targeting artistic, historically, socially and geographically specific works of art, literature and jewellery representing the essence of style and workmanship.
Working as qualified researchers, we guarantee the provenance of all our acquisitions and descriptions of the pieces. We acknowledge trademarks, brands, signatures, copyrights or articles and publications. Characterised by their authenticity, uniqueness, quality, rarity, infamy, workmanship, subject matter, date, association or provenance.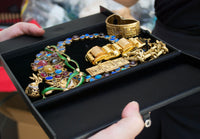 Our Services...
Buying Antiques & Collectables: -By Appointment -Consignment Available -Free Consultation -Home Visits Available on Request
Jewellery Services: -Custom Designs & Refurbishments -Repairs -Ring Resizing -Restringing -Value Certificates and Insurance Claims -Same Day On Site Services
Registered Delivery: -Delivery arranged locally, interstate and internationally -Click & Collect -Express Postage Available -Gift Wraping Available on Request
Other Services: -Interest Free Laybys -Gift Vouchers
All Major Credit Card & PayPal Accepted
Enquire Now